Major Members: Nick Laird-Clowes, Jeff Dexter
Representative Album: "Mona Lisa Overdrive"
...In the mid-'90s, Nick Laird-Clowes -- whose mid-'80s band, the Dream Academy, enjoyed a few hits, notably "Life in a Northern Town" -- decided to take some time off and traveled around India, Pakistan, Nepal, and Tibet for a time. He took with him a dictaphone recorder and made field recordings of what he was hearing all around him, whether it was chirping birds or confused taxi drivers....

Biography
Cyber-folkie Trashmonk was in reality singer/songwriter Nick Laird-Clowes, best known for fronting the pastoral folk-pop band the Dream Academy. Born February 5, 1957, his rather remarkable story begins in earnest at the age of 13, when he ran away from his West London home to attend the Isle of Wight festival; there, Clowes was befriended by DJ Jeff Dexter, eventually becoming his assistant sound mixer at a series of free festivals as well as at the legendary Camden club the Roundhouse, where he worked on live performances from The Who, Led Zeppelin, and Pink Floyd. The teenaged Clowes also made the acquaintance of John Lennon, briefly staying at the former Beatle's Surrey mansion, and while working at RCA he managed to save enough money to buy the guitar once cradled by his idol Nick Drake on the cover of the classic Bryter Layter album. His band Alphalfa soon scored a deal with EMI, with the group's debut album boasting art direction by David Hockney; they disbanded soon after, however, and after contributing backing vocals to T. Rex's Dandy in the Underworld, he relocated to New York City.

Clowes' arrival in the Big Apple coincided with the emergence of new wave, and he became a staple at landmark nightspots like CBGB and the Mudd Club. Moving back to Britain, he formed his own post-punk band, the Act, which like Alphalfa dissolved after recording one LP (1981's Too Late at 20). He next resurfaced in the Dream Academy, which in 1985 scored an international hit with the dreamy "Life in a Northern Town." After the group's subsequent efforts failed to match their early success, they disbanded, and Clowes turned to writing with Brian Wilson and Pink Floyd's David Gilmour; he also descended deeper into drug abuse, finally getting clean during a stay at a Himalayan monastery. He made his solo debut in 1995, appearing the London club the Living Room; in the audience was Creation Records honcho Alan McGee, a long-time Dream Academy fan who immediately agreed to sign Clowes to the label. Taking the name Trashmonk -- a moniker derisively applied to so-called "weekend Buddhists" -- he released his debut LP Mona Lisa Overdrive in 1999. ~ Jason Ankeny, All Music Guide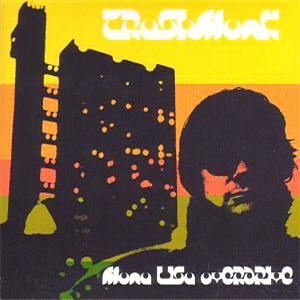 Mona Lisa Overdrive
1999
http://uloz.to/xhpExf9/trashmonk-1999-m … rdrive-rar
один из моих любимых альбомов, что еще сказать?!

Теги: rock, indie, experimental