Birth name: Patricia Lee Smith
Also known as: Patti Smith Group
Born: December 30, 1946 (age 61), Chicago, Illinois
Origin: New York City, New York, U.S.
Genre(s): Rock, proto-punk
She was influential in the birth of punk rock with her 1975 debut album Horses. Called "Godmother of Punk" she integrated the beat poetry performance style with garage rock. Her allusions introduced American teens to 19th century French poetry, while her "unladylike" language defied the disco era. Smith is most widely known for the song "Because the Night", which was co-written with Bruce Springsteen and reached number 13 on Billboard Hot 100 chart. In 2005 Patti Smith was named a Commander of the Ordre des Arts et des Lettres by French Minister of Culture, and in 2007 she was inducted into the Rock and Roll Hall of Fame.

Influence.
Patti Smith has been a great source of inspiration for Michael Stipe of R.E.M. Listening to her album Horses when he was 15 made a huge impact on him. He said later: "I decided then that I was going to start a band." In 1998, Stipe published a collection of photos called Two Times Intro: On the Road with Patti Smith. Stipe sings backing vocals on Smith's songs "Last Call" and "Glitter in Their Eyes". Patti also sings background vocals on R.E.M.'s "E-Bow the Letter".
In 2004, Shirley Manson of Garbage told about Patti's influence on her at Rolling Stone's issue "The Immortals: 100 Greatest Artists of All Time", in which Patti Smith was counted number 47. The Smiths members Morrissey and Johnny Marr shared an appreciation for Patti's Horses, and their song "The Hand That Rocks the Cradle" is a reworking of one of the album's tracks, "Kimberly". Later, Morrissey did a cover of "Redondo Beach", another song from the same album.
In 2004, Sonic Youth released an album called Hidros 3 (to Patti Smith). U2 also cites Patti Smith as influence.
In 2005 Scottish singer-songwriter KT Tunstall released the single "Suddenly I See" as a tribute of sorts to Patti Smith. The lyrics describe Tunstall looking at Smith's picture in a magazine; admiring her fame and accomplishments and suddenly realizing what she wants to do with her life. The cover of Tunstalls debut album Eye To The Telescope was also inspired by Smith, specifically the famous cover shot from her album Horses, of which Tunstall said: "I aspired to what this image was about - which was a woman dressed in man's clothes with such mystery, but such confidence and attitude and character. I just thought, 'that's so what I want to be when I grow up'."
Canadian actress, Ellen Page, frequently mentions Smith as one of her idols and has done various photo shoots replicating famous Smith photos. She has said that the only time she's been truly star-struck was when she met Smith backstage at a concert in Europe and she has a dog named Patti in homage to Smith. Because of Page's suggestions, Smith's work and name also factor prominently in two of Page's movies, Juno and The Tracey Fragments.

Easter (1978)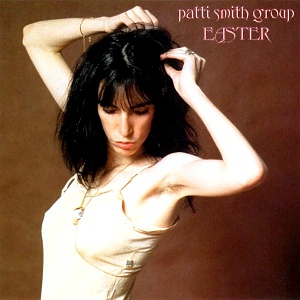 TrackList:
1. "Till Victory" – 2:45
2. "Space Monkey" (Smith, Ivan Kral, Tom Verlaine) – 4:04
3. "Because the Night" (Smith, Bruce Springsteen) – 3:32
4. "Ghost Dance" – 4:40
5. "Babelogue" (Smith) – 1:25
6. "Rock N Roll Nigger" – 3:13
7. "Privilege (Set Me Free)" (Mel London, Mike Leander, Psalm 23) – 3:27
8. "We Three" (Smith) – 4:19
9. "25th Floor" (Smith, Kral) – 4:01
10. "High on Rebellion" (Smith) – 2:37
11. "Easter" (Smith, Jay Dee Daugherty) – 6:15
12. Godspeed (Bonus Track)
https://ulozto.net/file/jym7SEUc/patti- … cwM2MxZt==
https://ulozto.net/file/6hoTL7ry/patti- … qbGmyvZt==



Dream Of Life
1988.
TrackList:
01 People Have The Power (05:10)
02 Up There Down There (04:50)
03 Paths That Cross (04:20)
04 Dream Of Life (04:39)
05 Where Duty Calls (07:49)
06 Going Under (06:00)
07 Looking For You (I Was) (04:08)
08 The Jackson Song (05:41)
09 As The Night Goes By (bonus track)(05:05)
10 Wild Leaves (bonus track) (04:04)
https://ulozto.net/file/fkPTPM4xUC1r/pa … MYDmtkLj==
320
Отредактировано mashmasha (2008-06-15 19:53:40)