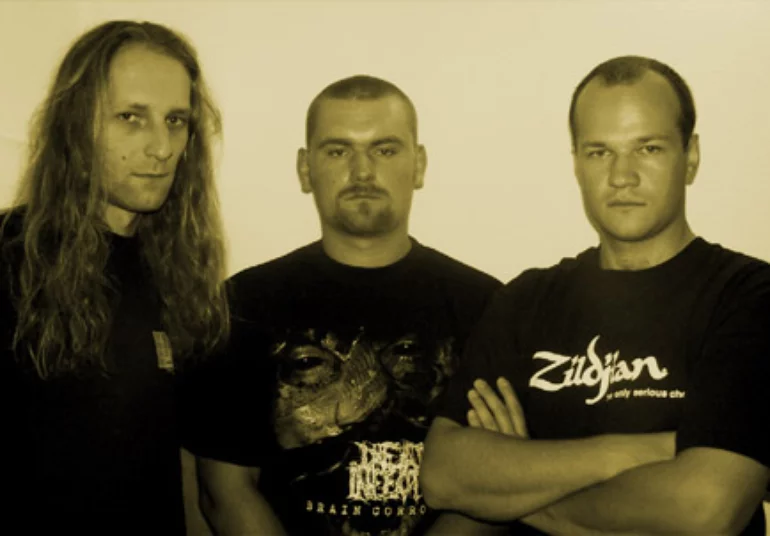 Страна: Poland (Bialystok)
Стиль: Brutal Death Metal
Current line-up:
Pierscień - Guitar, Bass, Vocals (Neuropathia, Dead Infection, Squash Bowels, Recrimination)
Thomas - Guitar (Neuropathia)
Bartosh - Drums (Parodie Sacrass, Persaturam)
INCARNATE was founded in the early fall of 2003. Following no trends, not trying to fit in, INCARNATE's main goal is to deliver uncompromised heavy music. Taken influences from thrash metal and early-90's US/European metalcore, INCARNATE brings you music with the intensity and power of Hatebreed, the thrashing riffs of Slayer and the heaviness of Crowbar.
INCARNATE self-released their debut 5 song MCD "A dark age of lies" in the fall of 2004. No time wasted, January 2005 Incarnate delivered some more brutality for a 3-way split CD entitled "LMNT02 - Earth" released by Wanted Recordings (BE).
For the international re-release of the "A dark age of lies" MCD INCARNATE signs a deal with the German label Lucifer's Legions Records. The MCD is released in October 2005. Around this time INCARNATE also recorded their first official videoclip featuring the song Stronghold. Soon thereafter, INCARNATE recorded a live videoclip for the song State of Mind. Both songs are taken from the above mentioned MCD.
May 2007, INCARNATE hit the studio again to record a cover-song called "Tempest", originally written by the legendary Integrity. The song appears in February 2007 on the "Integrity Tribute CD: Harder they Fall", released by Escapist Records (USA). This awesome album features contributions from hardcore bands from all over the world and artwork by Raf Wechterowicz (Trivium, Ringworm, Iron Maiden, Soulfly).
After numerous international releases, INCARNATE released their debut full-length album "Embrace the Horror" on Demons Run Amok Entertainment in February 2008. Fast riffs, aggressive breakdowns, and heavy grooves combined with lyrics dealing with personal frustrations, apocalyptic visions and criticism towards humanity. An album that is harder, heavier, more aggressive and features a guest appearance and artwork by the infamous Dwid Hellion (Integrity).
By now INCARNATE played alongside bands like Exodus, Pro-Pain, Gorefest, Merauder, Vicious Rumors, Sworn Enemy, 100 Demons, Born from Pain, Maroon, Cataract, Textures and many more.
The Horror is coming... Embrace it
PS переводить биографию мне было жутко лень и искать ее на руssком тоже