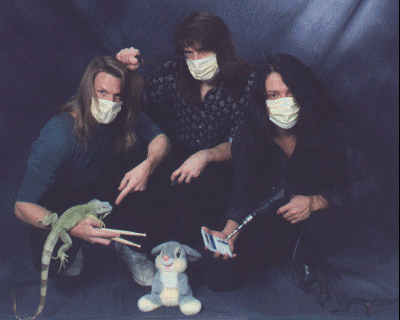 Spastic Ink is a technical progressive metal band from the United States that employs elements of jazz fusion and classic metal into their music.
Spastic Ink started out as a solo project for guitarist Ron Jarzombek of Watchower. After being joined by Ron's brother Bobby Jarzombek on drums and bass player Pete Perez (both of Riot at the time), they released their first album, "Ink Complete", in 1997.
"Ink Complete" specializes in super-complex instrumental fusion metal, a lot of which even makes Watchtower sound simplistic.
Work on the followup, "Ink Compatible", had been ongoing for several years, and was finally completed in early 2004. Contributing to the album is a veritable who's who of progressive metal, including fellow Watchtower members Jason McMaster and Doug Keyzer, Sean Malone (Cynic), Jens Johannsson (Stratovarius), Daniel Gildenlow ( Pain of Salvation), Marty Friedman (Megadeth), and several others.
The band have been undergoing further work on a third album.
Spastic Ink - Ink Compatible (2004)
Tracklist:
01 Aquanet
02 Just a Little Bit
03 Words for Nerds
04 Melissa's Friend
05 Read Me
06 Multi-Masking
07 In Memory of%85
08 A Chaotic Realization of Nothing Yet Misunderstood
09 The Cereal Mouse
320 kbps
http://yadi.sk/d/KGGH11QQVgoMo
Теги: Progressive Metal, usa