Bright Eyes is an American band consisting of singer-songwriter/guitarist Conor Oberst, multi-instrumentalist/producer Mike Mogis, Nate Walcott, and a rotating lineup of collaborators drawn primarily from Omaha's indie music scene.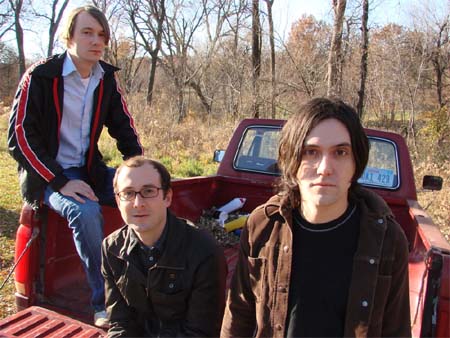 The only official "permanent" members are Oberst, Mogis, and Walcott. "It's nice to always have new interpretations of the songs, and it's nice to always travel with new people," says Oberst.
Omaha, United States (1995 – present)
люблю их, люблю их, люблю их, люблю их
любила и буду любить, цепляют, цепляют чем-то.

-------------------------------------------------------------------------
Cassadaga

Released April 10, 2007
Recorded 2006
Track listing
All songs written by Conor Oberst, except where noted.
01 Clairaudients (Kill Or Be Killed)
02 Four Winds
03 If The Brakeman Turns My Way
04 Hot Knives
05 Make A Plan To Love Me
06 Soul Singer In A Session Band
07 Classic Cars
08 Middleman
09 Cleanse Song
10 No One Would Riot For Less
11 Coat Check Dream Song
12 I Must Belong Somewhere
13 Lime Tree
14 Susan Miller Rag
http://www.uloz.to/xoNvR1A/bright-eyes- … a-2007-rar
Cassadaga debuted at number four on the U.S Billboard 200, selling about 58,000 copies in its first week.[4] The album is the 103rd release of Saddle Creek Records. This album was #12 on Rolling Stone's list of the Top 50 Albums of 2007.[5]

Johnny Depp named Cassadaga one of his "favorite things" of 2007.
The CD and LP versions of the album come with a "Spectral Decoder" which allows users to see the true cover art on the album. One particular segment of text located on the back of the case includes a phrase in Russian; "тяните другую кровавую ванну" meaning "draw another bloody bath", a reference to the first track's lyrics. Another hidden phrase is in Greek; "παρελθόν παρουδιάζω Μέλλον" meaning "the past presents the future", which is also the title of an album by Her Space Holiday, with whom Bright Eyes released a split single.

Hidden phrases in English:
"Dog faced apologists pleasing themselves on the burning sand"
"These myths are sacred and profane!"
"Rocks beneath the water" (Which is what "Cassadaga" means in the Seneca language.)
"Citrus slaves throwing dice in the dirt, amusement"
"We love you, Breezy, and we miss you!!!" (One can only assume that this is a dedication to Sabrina Duim - see below.)
"Swollen saints bathing in a backwards river under a sliver of a moon"
"Mighty Saturn enters your eighth house"

On February 10, 2008, Cassadaga won a Grammy award for Best Recording Package.
Отредактировано mashmasha (2008-11-09 13:28:47)