To-Mera are a progressive metal band from South Oxfordshire in the UK. The band play a technical and challenging style of metal characterised by long songs, multiple time changes, jazz interludes, and rich female vocals.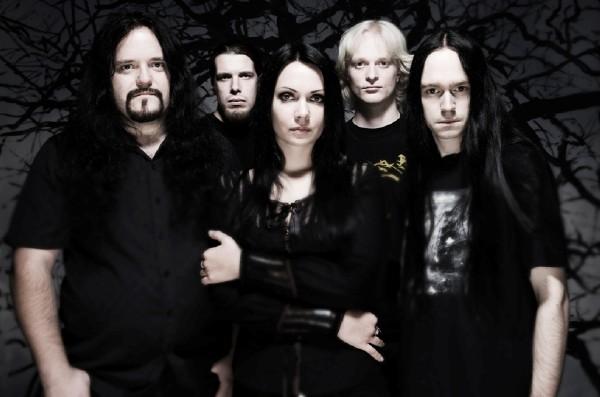 info
Current members:

Julie Kiss - Vocals (ex-Without Face)
Tom MacLean - Guitars
Mark Harrington - Bass (Demagogue, Lost Legion)
Paul Westwood - Drums (ex-De Profundis (UK))
Hen - Keyboards, Guitars (Haken)

Former members:

Akos Pirisi - Drums
Hugo Sheppard - Keyboards
Lee Barrett - Bass (ex-Extreme Noise Terror)

Biography

Formation of band

To-Mera was formed by Julie Kiss and Lee Barrett (ex:Extreme Noise Terror / Disgust / Mussolini Headkick) following her departure from the Hungarian progressive metal band Without Face. At the start of 2004 they began searching for full-time members and Akos Pirisi, a huge fan of Meshuggah and a master of polyrhythmics, was brought in on drums. Later Tom MacLean was found after he, a big Without Face fan, recognised Julie and introduced himself at a Dillinger Escape Plan concert. After the band's demo was recorded, To-Mera finally found a full-time keyboard player in the shape of Hugo Sheppard.

Demo reaction and album recordings

The band recorded their debut demo in July 2005 at The Peel rehearsal rooms (Kingston upon Thames) on a laptop, and it was mixed in France by producer Brett Caldas-Lima (Kalisia / Malmonde / Fairlight).

The demo was sent to many webzines and magazines, where universal acclaim was given. The band received "Demo of The Month" at Organ Magazine, Zero Tolerance magazine and Imperiumi.net (Finland). These, and many other, great reviews led to a number of interested record labels getting in touch. It soon became clear that Candlelight Records (Emperor, Opeth, 1349, Zyklon, Enslaved, etc) was the best choice for the band and a multi-album, worldwide deal was signed on 7th January 2006.

To-Mera recorded their debut album Transcendental in May/June 2006, again with producer Brett Caldas-Lima. Drums, guitars and vocals were recorded in Veszprem (Hungary), while the bass and keyboards were recorded in London (England). The audio mixing and mastering took place at Tower Studio in Montpellier (France). The album was released in Europe on 11th September 2006 and 3rd October 2006 in the USA.

Change in band line-up

On 15th July 2006 the band announced the departure of drummer Akos Pirisi. This was due to the fact that Akos' commitments in his home country of Hungary made it very difficult for the band to rehearse and play as a live unit in the UK. As a replacement, the band brought in Paul Westwood from Foe, an experimental rock band based in London. Later in 2007, Keyboardist Hugo Sheppard left the band for personal reasons. Hen, the brute guitarist and keyboard player from ultra-prog metal band Haken, soon after replaced Hugo. Hen is renowned for his use of 8 finger tapping and always playing out of the key.

Reaction to Transcendental

Transcendental received very positive reviews after its release in Europe, with many webzines and magazines giving it high praise and marking it for its ingenuity and technical proficiency. The band also received KKKK in October 2006's Kerrang! magazine[1] as well as a full-page feature[2], which was a huge step for a new metal band. The Kerrang! feature gave the band greater notoriety and as a result they garnered a lot of interest from promoters wanting to book the band for live shows. In the end the band chose to sign with The Agency Group, who specialise in promoting gigs at a large number of international venues. The Agency Group has also expressed interest in getting To-Mera to play over in the USA.

Follow-up to Transcendental

To-Mera worked on the follow-up to Transcendental throughout 2007. The album, named Delusions, was released on February 18, 2008.

A few days after the release of the album, bassist and founding member Lee Barrett announced his departure from the band, stating that he would be "unable to fulfill any possible future touring or musical commitments" due to his other work. A replacement had quickly been found in Mark Harrington.[3]

Influences

To-Mera cite their other influences as Opeth, Evergrey, Symphony X, Dream Theater and Pain of Salvation. Julie Kiss' interest in Egyptology gave the band their name.

Band trivia

The idea for starting a new band came to Julie Kiss immediately after her departure from Without Face. However, it took nearly two years for the final line-up to take shape.
The word 'To-Mera' has been loosely translated to mean "The Land of the Pyramid", as cited in 'The Secret History of Ancient Egypt' by Herbie Brennan. However, the true meaning of the word is in some dispute.
Discography:
2005 - Demo
2006 - Transcendental
2008 - Delusions
PS К сожалению, на русском языке информации о них не нашел, так что извиняйте, на английском только

Может переведу, если будет время и желание

Теги: Progressive Metal, Female Vocal, gbr
Отредактировано Tjodmar (2008-11-09 18:30:20)